Fancy Font Generator - 💎𝕋𝕖𝕩𝕥 (💗༺𝐂𝐨𝐩𝐲 𝐚𝐧𝐝 𝐏𝐚𝐬𝐭𝐞༻💗)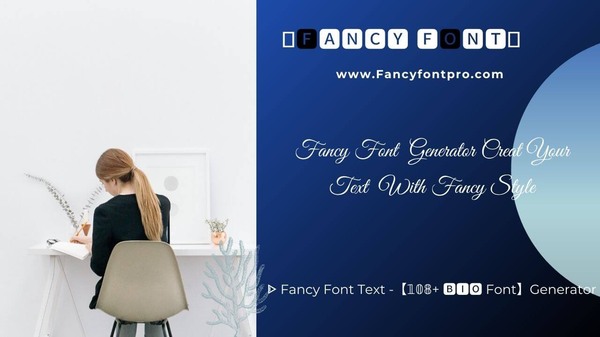 Welcome to fancyfontpro.com
Fancy Font Pro is the most powerful Fancy Font Generator Tool. You can convert your text into multiple unique fancy texts and you can copy and paste anywhere. like social media Facebook, Instagram, and Twitter. No pay any coste. this site is totally free.
Fancy Font Generator is an automated online tool developed for people who want to create fancy text for any purpose, whether you need content for your profile, insta, Facebook, Twitter, and other purposes, fancy The font text generator tool can do this for you. In a few seconds, without any effort.
Fancy fancy text generator tool is the best tool for writing fancy nicknames online because it can rewrite a unique style for your profile, then Fancyfontpro.com can increase your friends in social media which will add more attraction to your profile Can bring. Just type in the word you want to make fancy text, and get the fancy text by clicking the copy button.
What Is Fancy Font Text
Fancy Font Text Generator and Fancy Text- Stylish Fancy Font is a fancy text generator tool and can generate traditional text online that creates cool text styles for Instagram and other informal community sites. It transforms a specific text to various free cool fancy font text, for example, an Instagram text with Cursive Text Style, Double Struck, MonoSpace, LUNI TOOL STINY, REVERSE MIRROR, etc. This fancy font text will attract your friends. Fancy font for Facebook, Twitter, Instagram - if you have what you want this tool is an ideal place that it gives more than that!
How to use Fancy Font Pro?
➠ Enter your text in the text area box. Your normal text will be automatically generated for the fancy text you want to generate.
➠ Copy your fancy font text. Click your favorite fancy font text box to copy the fancy text to your clipboard.
➠ Paste your stylish fancy text where you want.
Where can you use fancy text?
This is a part of Unicode, which including fancy font text, which you can copy and paste on every platform. You can post on Instagram, Twitter, Facebook, and along with it is a cursive font or bubble text! Just type your favorite word in the text area and the word will be automatically fancy. just click "copy" and paste anywhere!
Best Fancy Font Generator Online
It includes many text styles, and the best of them is fancy text. the fancy font is extravagant looking text, generally utilized in Instagram Bio to make it attractive.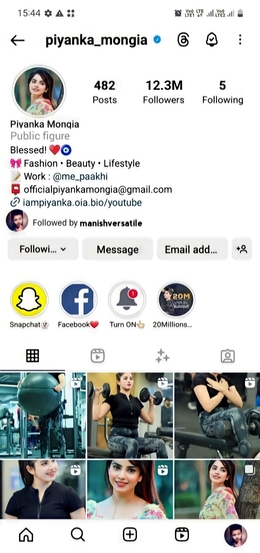 ➥ Instagram Profile- piyanka_mongia
Can I make a stylish nickname for free fire and pub mobile?
Truly, you can make a fancy name with the expectation of complimentary from this site. Yet, remember, the name of the long character in Free Fire and Pubg won't support it. To consistently make a short and attractive name for your game profile.
copy and paste cool fancy text for Facebook
This site is additionally well known for making cool fancy text. We are utilizing a combination of Unicode and JS to make this sort of cool text font
This fancy font generator encourages you to make Instagram bio text style from this site. Truth be told on the off chance that you make a special Insta Bio, at that point, it will give your profile an attractive look. Using this tool, you can generate a stylish and fancy Instagram bio.
Notice that somebody is checking your Instagram profile, they will tap on your username and check your profile. They will at that point see your profile picture, despite the fact that it can't be zoomed in. By then in the event that you have an attractive bio, the people will show interest in you, in light of his Instagram bio.
So getting to the heart of the matter, this site permits you to make extravagant Instagram bio textual styles like others to make your profile remarkable and intriguing.
What are the most famous types of fancy text to generate?
➥ OLD ENGLISH - 𝔉𝔞𝔫𝔠𝔶 𝔉𝔬𝔫𝔱
➥ DOUBLE STRUCK- 𝔽𝕒𝕟𝕔𝕪 𝔽𝕠𝕟𝕥
➥ LUNITOOLS BUBBLES - Ⓕⓐⓝⓒⓨ Ⓕⓞⓝⓣ
➥ INVERTED SQUARES - 🅵🅰🅽🅲🆈 🅵🅾🅽🆃
➥ FAT TEXT - ᖴᗩᑎᑕY ᖴOᑎT
➥ BOLD TEXT - 𝐅𝐚𝐧𝐜𝐲 𝐅𝐨𝐧𝐭
➥ SQUARES - 🄵🄰🄽🄲🅈 🄵🄾🄽🅃
➥ ASIAN STYLE - 千卂几匚ㄚ 千ㄖ几ㄒ
➥ TILDE STRIKE THROUGH - F̶a̶n̶c̶y̶ ̶F̶o̶n̶t̶
Diffrent type Beautyfull Font Styles
༄ᶦᶰᵈ💖ʄǟռƈʏ ֆȶʏʟɛ࿐
💍💗 Fαɳƈყ Sƚყʅҽ💗💍
༒☬💝ʄąŋƈყ ʂɬყƖɛ💝☬༒
༄●⃝💗fคຖ¢ฯ Ştฯlē💗☯ᴮᴼᵞ࿐
💖💝ꄘꋫꁹꏸꐟ ꌚ꓅ꐟ꒒ꍟ💖💝
💍💗 Fαɳƈყ Sƚყʅҽ💗💍
█▓▒­░⡷🌝⦏F̂⦎⦏â⦎⦏n̂⦎⦏ĉ⦎⦏ŷ⦎ ⦏Ŝ⦎⦏t̂⦎⦏ŷ⦎⦏l̂⦎⦏ê⦎🌝⢾░▒▓█
There are some fonts that you cannot change which can only be changed system wise which you can exchange machine-wide, there are many fonts in our Graffiti font collection which will not be found anywhere else. Our site includes more than a hundred amazing styles and codecs similar to all the classics you will find. You may want to add and match certain components to specific fonts.
Generate fonts for lots of wishes.
Discover how to create sparkler typography using any font type and text you need. In general, with the help of our fancy font generator, you can show off your text and contemporary needs in a more fashionable way, and wow your friends and family, and they ask you about exceptionally trendy text content.
𝔻𝕠𝕦𝕓𝕝𝕖 𝕊𝕥𝕣𝕦𝕔𝕜
Double Struck is likewise known as Blackboard Bold. It originated as an try to create formidable lettering with chalk on a blackboard. Shelly labored her way into mathematical equations. This became later emulated on typewriters via masking the identical person twice. Leading to hit the name double.
➥ 𝔻𝕠𝕦𝕓𝕝𝕖 𝕊𝕥𝕣𝕦𝕔𝕜
Squared
It was first added to Unicode for Japanese television stations. They wanted such symbols for wider layout broadcasts and news. Unicode was later given and for blood groups, for public bathrooms and parking. These were quickly combined with the rest of the alphabet.
➥ 🆂🆀🆄🅰🆁🅴🆂
zalgo text
Zalgo text is a distorted version of normal text which is a horror. Do you often see how people put up weird search text with weird variations? These texts are portrayed as a part of memes or photographs, many of which are well-crafted, while some are very creepy.
Which is taking great interest in many media platforms like Facebook, Instagram, Twitter and many more. Many new versions of these texts come out from time to time. They are commonly referred to as "Zalgo text" or "glitch text" due to their fleeting glitch or glitchy appearance.
➥ Z̷̬̄̀̑͌̒̍̀̒̈͘͘a̷̛̹͂̆̊̇̏̋̐͂̈́̓̊̚͝͝ĺ̴̡̝̭̪̜̒̄͘ͅg̸̛͓͇͆̐̇̿̈́͗͐̂̑̌͊͐͝ơ̸̧̡̢̰̩̞̠̭̳͖͉̾͑̆͒͊͜͠ ̸͔̤͚͈͎̻̬̥͗̓̿͌̑̇̂̚T̶̘̗͑͌͛̂̿͋̈́̏͝é̴̢̙͈̳̥͍͈̙̊̍ͅx̷̨̦͎̞̠͙̹̳̞͚̟̮̀͌̾̈̆͝t̶̨̰̦̤̻̪̞̤͕͍͔̼̆̂̆͠
Can iPhone change the font?
One of the added features is the ability to customize fonts on the iPhone and iPad. However, this option is confined for now. We will display you other ways to customize your fonts for an iPhone.The software has been advanced to work around and produce custom fonts for iOS. Apple helps this software, and it works for the whole phone interface.
Can I use Fancy Font Pro for email?
Obviously, you can use Fancy Font Pro in your email. You can create amazing and attractive names with Fancy Font Pro to use on email. To refer to the message with a specific person's name. You can make their name fancy with a fancy font text online generator.
In the event that you use the classy name instead of your original name, you should have the option to pull in the idea of the person you are sending the message to. Use any place, you can generate text on our site, you will have the option to attract the views of your family, friends, and every other person. You can use it when you need to have an attractive email. Which you can use for authentic purposes as there are many customers on our site who are for example producing our catchy text that generates the name they are using in their email. I believe that you will use this process today.